Beautiful and unique hand made crucifix historic WWII BATTLESHIP MARYLAND replica
Great gift for Weddings, Ordinations, Confirmations, First Communions, and more!
TO ORDER CALL
(360) 403-8668
$299.00 EACH PLUS S&H
Each crucifix is constructed with beautifully finished hardwood and measures 24" x 14 1/4"
The body of Christ is molded from the original battleship Maryland altar crucifix and cast in resin. It is then painted and glazed in a rich antique gold color.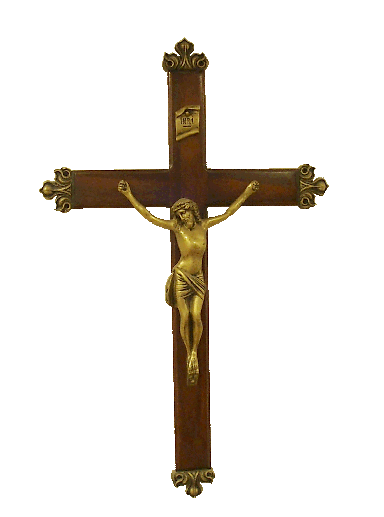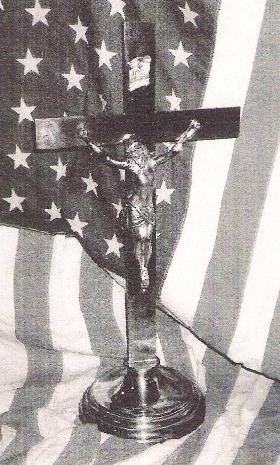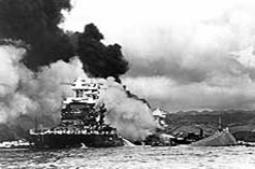 History of this Crucifix
Nicknamed "Fighting Mary" the battleship Maryland was the pride of the United States Navy.
She was present at Pearl Harbor during the attack on December 7, 1941.
Battered yet sturdy, the ship entered Puget Sound Navy Yard on December 30th.
She emerged February 26, 1942 repaired, modernized, and ready for service.
She went on to receive 7 battle stars for her WWII service.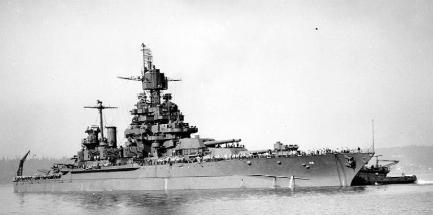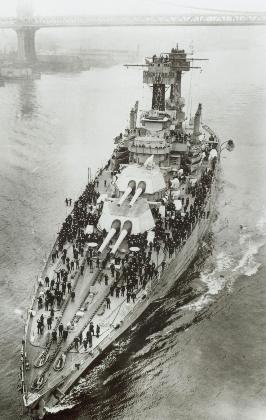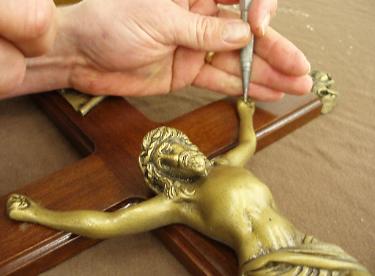 From the Craftsman:
"This WWII Battleship Maryland altar crucifix was gifted to my family by the ship's chaplain when the ship was decommissioned. In over 30 years of wood working, the project in which I have derived the greatest joy and meaning is in replicating this crucifix."

"Thank you for our beautiful crucifix; we love it so dearly. Your workmanship is really outstanding!"
~ Julie and Rich Thrasher
"This crucifix is truly the most beautiful Catholic treasure we now possess. We can't tell you how much it means to us."
~ Brinn and Keith Funai
"You did a tremendous job on the crucifix and it will always have a place of honor in our home."
~ Catherine and Chris Hunhoff
"This crucifix is in the center of our home, and blessed both by your making of it and by the blessing of our priest."
~ Lora and Brian Offer
"I can't tell you how deeply I was touched this Christmas morning when Larry presented me with the big box. The crucifix moved me to tears. It will be placed in our hallway near a light where we'll see it daily."
~ Judy Kimball
"It's plain to see that this crucifix is hand crafted with reverence. It is an inspiring addition to our home."
~ Roberta and John Wolcott
"Father blessed the beautiful crucifix and it is now ready for hanging in our study, quiet room. We will meditate upon it daily"
~ Reeny and David Olson
"It is such a pleasant experience for me to walk into my home and the first thing I see is this beautiful crucifix which reminds me of that good battleship Maryland I was so pleased to serve on during WWII."
~ Pearl Harbor survivor J.P. Quinn